Create Smooth Sounds with the Smoothest Chocolate
Objective:
Cadbury Philippines and Ace Saatchi & Saatchi wanted fans of Cadbury to vocalize and spread the word on how much they love Cadbury Chocolates. They also wanted a new and innovative way to engage their fans through a touch-scren kiosk and Social Media.
Solution:
Cadbury Philippines and Ace Saatchi & Saatchi approached The Hand Creative Technology to build a Facebook-connected "Song Recording" kiosk. Through the installation, participants get to create their own Cadbury Songs that answers the question: "How does Cadbury Make You Feel?". Participants create their songs by recording a 30-second vocal track and then choosing 1 of 54 audio backing tracks. The two tracks are mixed together into one mp3 file to be uploaded and retrieved in Cadbury Philippines' Facebook fanpage.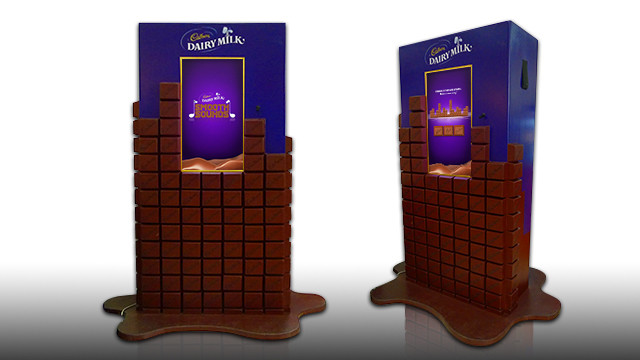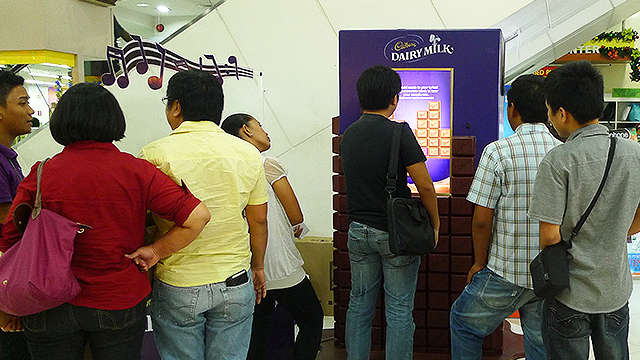 Result:
Through 5 installations across various groceries, we gathered an average of 120 songs per month.
Concept: Ace Saatchi & Saatchi
Software Development: The Hand Creative Technology
Do you have a Project in mind?
Send us an email at interact@thehandcreative.com and we'll help you build it.