FWD Life Insurance Corporation (FWD Life), the life insurance business arm of investment group Pacific Century Group, has recently appointed The Hand Creative as their Digital Agency of Record (AOR) in the Philippines.
As FWD Life's Digital AOR, The Hand Creative will be in-charge of producing digital experiences for FWD Life's web, mobile, retail, and event channels.
The Hand Creative business director, Twinkle Dela Cerna shared, "Our goal in this partnership is to help FWD Life stand out by consistently delivering more-than-the-usual experiences, compared to what the market is used to."
As a company that has pioneered the use of the Augmented Reality, Virtual Reality, Motion-based via Kinect and Leap Motion, and Multi-screen technologies for marketing, Twinkle shared, "The Hand Creative has the capability to put together digital campaigns that truly stand out from the rest."
The Hand Creative has collaborated with FWD Life in the insurance company's most recent digital campaigns.
The Life Is campaign is a digital mural containing a collection of photos and 15-second videos from participants who contributed what "Life is" for them. It is part of the FWD Life's ongoing efforts to encourage living life passionately through sharing visual content online. As this is a multi-channel campaign, different social media platforms were made available to consumers who wish to participate, i.e. Facebook (upload via Facebook app and website – www.lifeis.ph), Twitter, Instagram, and Vine (via hashtag #GetReadyToLive).
The recently-concluded Live to Move health and wellness campaign (visit www.livetomove.ph) aims to promote healthier lifestyle through combined on-ground exercise activities and a mobile rewards system to boost participation. FWD Life partnered with top fitness coaches Jim and Toni Saret in this one-of-a-kind wellness initiative.
Live to Move Grand Festival, the campaign's culminating event, was held last October 24th at SM By the Bay in SM Mall of Asia. The Festival was attended by thousands of people and was highlighted by a wellness party with DJ Mars Miranda. Attendees enjoyed the activities for free and collected points through the livetomove.ph mobile website. Points were earned by attending events and joining various activities. The points were then converted to raffle entries which then gave consumers a chance to win exciting lifestyle prizes.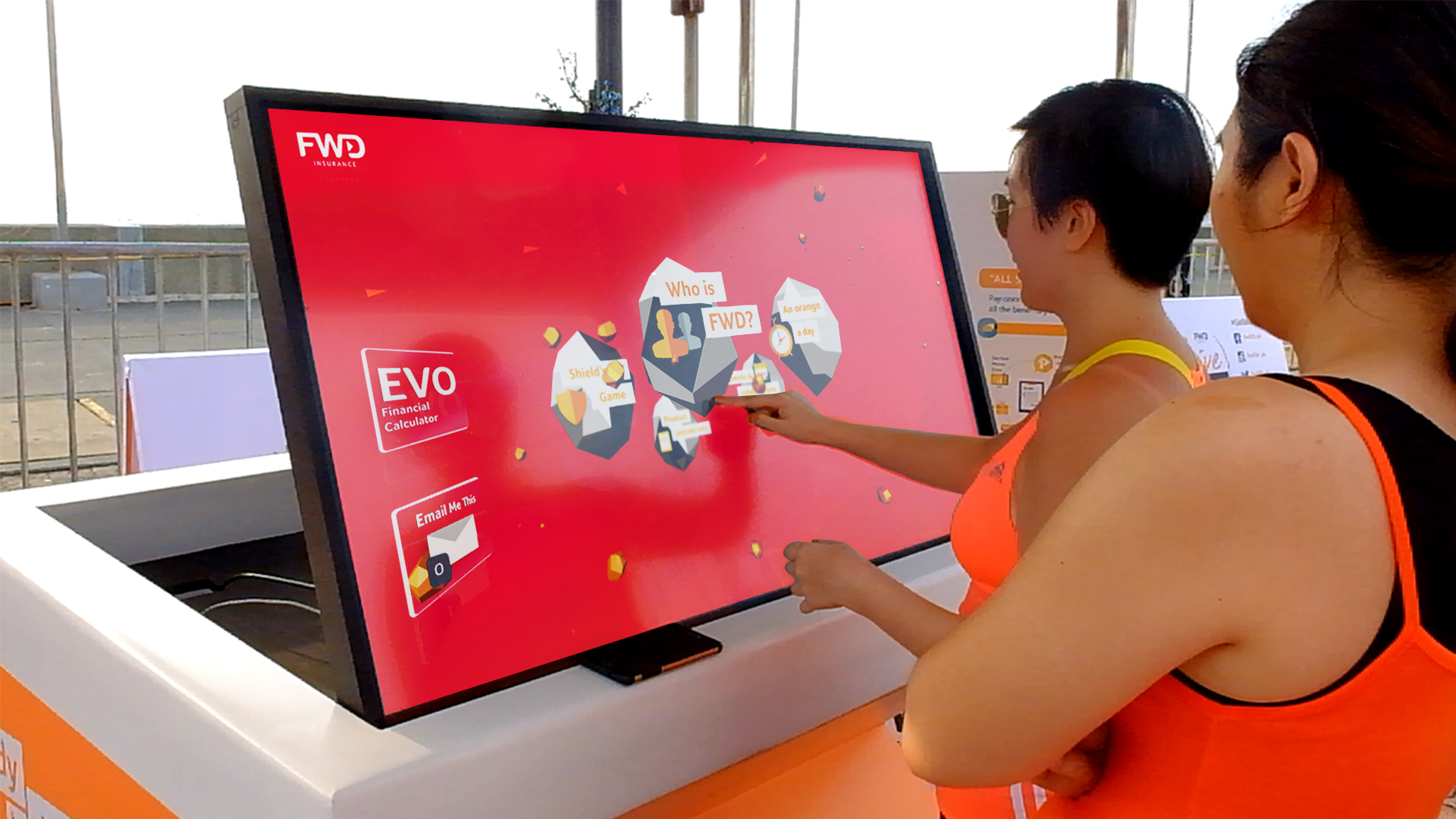 The Hand Creative also developed the software for Henri, FWD Life's Interactive Table. Henri, located at the FWD Connect in Bonifactio Global City, is a 55" Multitouch Touchscreen designed to provide various interactive info-materials to consumers. Henri has information about FWD Life's brand and the services it offers which multiple users can browse through. Multiple windows containing slideshows, images, and videos, can be rotated, dragged, and resized by using multi-touch gestures. Interested customers can also get soft copies of the content they are reading, by using the "Email me this" function.
With these exciting campaigns, Twinkle expressed delight to be in partnership with FWD Life, "We, at The Hand Creative, are very happy to have FWD Life as our client. They embrace the fast-paced nature of technology and share our passion for finding new and exciting ways to inform, educate, and entertain through interactive media."
Roche Vandenberghe, FWD Life's Head of Brand, Digital Marketing, and Corporate Communications, said, "We are delighted to be working with The Hand Creative Team. They are dynamic and innovative, which complement our focus on creating fresh customer experiences, with easy-to-understand products, supported by leading digital technologies."
"We are determined to changing the way people feel about insurance and, with the help of The Hand Creative, we are confident that we can make this happen," Roche added.
Through using fun and interactive technologies, The Hand Creative enjoins FWD Life in its vision of changing the way people feel about insurance.
About The Hand Creative
The Hand Creative offers unique and engaging digital technologies for any brand's needs. Take a peek at www.thehandcreative.com and their Facebook page facebook.com/thehandcreative.
About FWD Life Insurance Corporation
FWD Life Insurance Corporation ("FWD Life") is the first life insurance company licensed by the Insurance Commission of the Philippines under the new Insurance Code. FWD launched its commercial operations in September 2014.
FWD Group spans Hong Kong & Macau, Thailand, Indonesia and the Philippines, offering life and medical insurance, employee benefits, and general insurance across a number of its markets. Established in Asia in 2013, FWD is the insurance business arm of investment group, Pacific Century Group.
FWD is focused on creating fresh customer experiences, with easy-to-understand products, supported by leading digital technologies. Through this customer-led approach, FWD will achieve its vision to become the leading pan-Asian insurer that changes the way people feel about insurance.
For more information, please visit WWW.FWD.COM.PH.